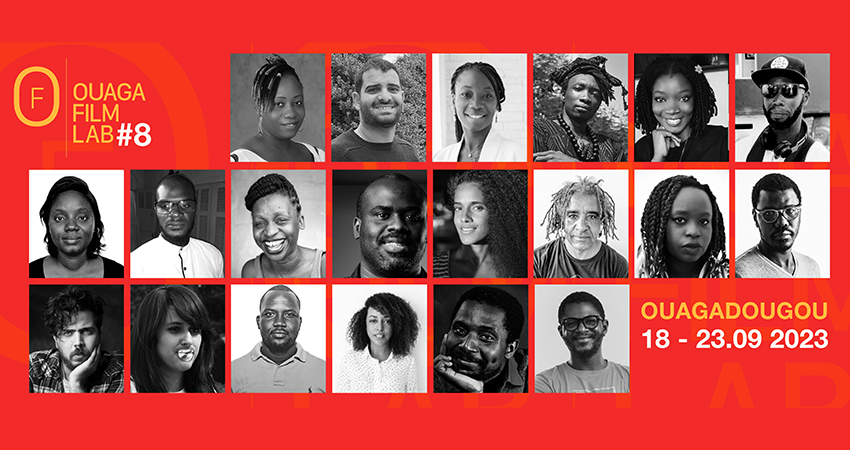 The Ouaga Film Lab team is pleased to announce the projects selected for its 8th edition edition, which will take place from 18 to 24 September 2023, in Ouagadougou (Burkina Faso).
More than one hundred applications from all the countries of the continent were received during the call for projects launched in March. After deliberation, the Ouaga Film Lab selection committee selected the following 12 projects:
6 documentary projects, 4 fiction projects
55% of the participants are women
The selected projects come from Algeria, Benin, Burkina Faso, Ivory Coast, Mali, Mauritania, Morocco, Mozambique, Niger, Democratic Republic of Congo, Senegal, South Africa, Tunisia.
TADDART, documentary project by Rima KERKEBANE (Algeria), produced by Aissa DJOUAMAA – Nouvelle Vague Algérienne – (Algeria)
NADINE ET NADIA, NOUS VOULONS AUSSI GOUVERNER, documentary project by Evelyne AGLI (Benin), produced by Daoud AOULAD-SYAD – Les films du Sud (Morocco)
BLACK VOLTA, projet de documentaire de Floriane ZOUNDI (Burkina Faso), produced by Delphine YERBANGA – Guetba Images Productions (Burkina Faso)
SIMA, documentary project by Azaria YONLI (Burkina Faso), produced by Laurent BITTY -Makoré (Ivory Coast)
EN ATTENDANT LA RECOLTE, fiction project by Sagou BANOU (Mali), produced by Sakinatou SEYDOU HAINIKOYE – Future Films (Niger)
SAMIYA, LA SAISON DES AMOURS, fiction project by Ousmane DIAGANA (Mauritania) produced by Sébastien TENDENG – Impluvium Productions (Senegal)
NKHODHA AND THE MERMAID, documentary project by de Yara COSTA (Mozambique), produced by Tiny MUNGWE – Generation Africa – Steps (South Africa)
WALINZI, fiction project by Sheriya TWANA (Democratic Republic of Congo), produced by  Emmanuel LUPIA- Tosala Films (Democratic Republic of Congo)
MBELAAN, fiction project by Ousmane Majha SARR (Senegal), produced by Cheikh Ahmadou DIOP – Kerdoff productions (Senegal)
CIRTA, documentary project by Saifeddine CHIDA (Tunisia), produced by Olfa BEN ACHOUR – A.P.A (Artistes producteurs associés) (Tunisia)
We would like to thank all the applicants for their applications and congratulate the selected applicants.